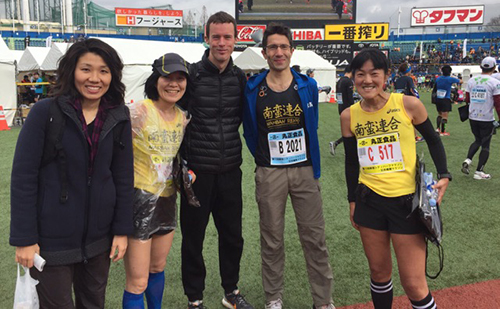 January 29th marked the 15th running of the Shinjuku City Half Marathon (plus 10km and family/children's events). The convenience and novelty of running in the center of the city and finishing in the Jingumae baseball stadium make this a popular event that fills quickly. According to the official guide, there were 5,006 registered for the half marathon and 2,769 for the 10km.
Those running the half get the earlier start, at 8:30 a.m., and a course that does a big first loop up to and along Yasukuni Dori. They also get to traverse the Gaien tunnel on the second, medium loop. Those in the 10km could enjoy a leisurely 11:10 a.m. start, by which time it was quite warm with the sun shining and no wind. The 10km course is basically three laps of a tighter loop around the Jingu Gaien area, so it is scenic, but there are lots of turns and it gets crowded with the faster runners lapping the more casual ones.
Mike Hegarty (1:16:34) and Olivier Absous (1:20:47) ran impressive times in the half, and the Namban ladies contingent also ran well as usual, including Satohi Numasawa (1:34:40), Rie Onodera (1:34:53) and Rika Homma (1:41:52). For the 10km, Alan Cannon (38:13), Andy Drought (41:18) and Gary Robert (42:04) all managed to gather together at the start. Shinobu Shikauchi and Taeko Hara (4th in age group) ably represented the Namban ladies.