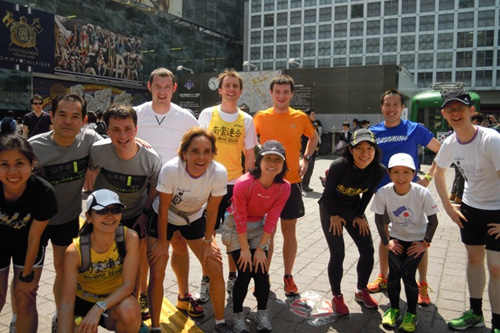 Sunday April 29th was Laci Demko's last full day in Japan, and he decided he wanted to say goodbye to his home of two years by running around the Yamanote train line. He was joined in this by 12 other Nambanners, who set out from Yoyogi Park at 10am and spent the next seven hours gradually running around the 29 stations (40km) of the Yamanote, plus a slight unplanned detour to Oimachi station as a kind of bonus.
Some of the more interesting moments along the way were going through Ueno's crowded Ameyoko market, Shin Okubo being full of riot police, and Nick's discovery of increasingly strange conbini (convenience store) food. Finally, tired but still genki, Laci, Mary, Pat, Mika, Chiba, Kanna, Matt, Rie, Chika, Nick, Mike, Adrian and Derek enjoyed a soak in LacI's beloved sento and a last supper at Raj Mahal in Shibuya.
Laci is just behind kneeling Mika in the photo.