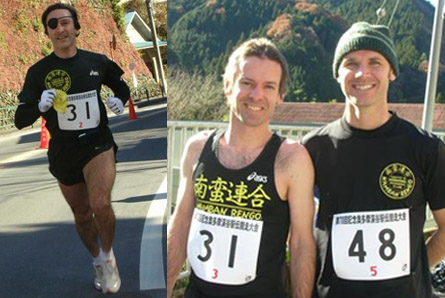 This year's Okutama marked the 70th edition. Perfect conditions greeted the Namban Rengo horde in the mountains west of Tokyo. The weather was cool and crisp, but the sun made running in shorts and singlet possible.
Namban fielded a womens team, which came 12th (a fine effort against some really strong univerity teams); and two mens teams, who did well, finishing mid-pack and, more importantly, avoiding the dreaded "White Sash" that is given to teams that don't make the cut-off time.
The event is great – how often do you get to mix with pros and top university teams, and be served by an army of timekeepers, police escorts and other officials? It makes you feel special to be running in such exalted company.