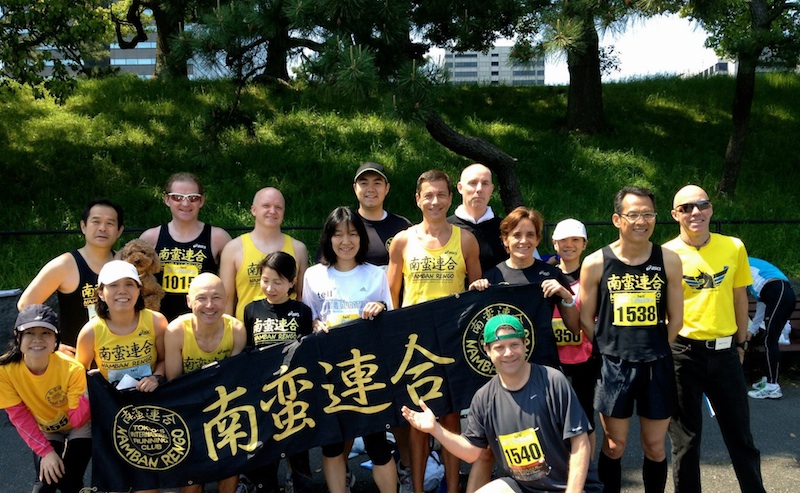 The TELL (Tokyo English Life Line) Charity Runathon was held on May 4th in beautiful weather. Namban Rengo runners took home good prizes in 3 of the 4 divisions. In the Men's 10K, Brett Larner showed a return to form by placing 5th in 36:14, Raymond Wong was 9th in 39:17 and Philippe Boue was 10th in 39:18. In the Women's 10K, Rie Onodera was 2nd in 42:58, Chika Kanai was 4th in 43:15 and Jo Purcell was 7th in 45:32. And in the Women's 5K, Elsie DeLorenzo was 5th in 23:45. Also running in support of TELL were Mary Eckstein, Kanna Yasumi, Taeko Hara, Hisako, Juergen Wittstock, Steve Wheeler, Chris Parry, Jose Aragon, Andre Deckrow and wife Ruth, John Tadman and Kazuo Chiba, plus Bob Poulson as race director.
Interesting notes:
• Bob and a few other members were interviewed by a Tokyo FM announcer for the Blue Ocean program, which features foreigners' activities in Tokyo.
• Running in the 10k was actor Sean Astin, best known as Frodo's friend Sam in Lord of the Rings. He's an extremely nice guy, and is now an honorary Namban Rengo member. He ran about 53 minutes, not bad for a Hobbit.